Introduction
---
This program is designed to develop capacity on analytics for professionals in academia i.e. faculty members and researchers working in schools, universities, colleges and professional institutes, or other government and private professional training institutes. It is also suited for early career industry professional who wants to develop basic capacity on analytics. The program would give the participants an edge to perform and implement more effectively the analytics at their respective professions.
Objective
---
The objective of this online Programme is to provide a framework and necessary data-analytic tools required to process large numeric datasets, inference from which can be used for data-driven decision making. The Programme will focus on examples from various management domains. Apart from learning data-analytic tools, the participants will be exposed to a statistical software, R for data analysis. While knowledge of preparing scripts in R will be disseminated as a part of the overall objective of the Programme, it will not attempt to be at a specialist level.
Why Should You Attend?
---
Participants will benefit from this Programme if they encounter some or any of the following situation(s) at work:
If you are interested and want to equip with data analytic skills.
If you are interested in redesigning your ongoing research to make them more useful for business decision-making.
If you want to develop/refresh your understanding about basic statistical acumen, some relevant data analytic tools, and their applications.
Contents
---
Data pre-processing
Review of Statistical Tools
Statistical Inference
Predictive Analytics
Programme Delivery Mode & Software Requirement:
---
Zoom Software: It will be in Device-to-Device (D2D) mode on the Zoom platform. The participants are required to login for attending the sessions from their computer. A stable 4G/Broadband internet connection will be required.
R Statistical software: Participants will be exposed to a statistical software, R, which can be freely downloadable from https://www.r-project.org.
Duration

---
The Programme will be conducted (tentatively) between September 26th 2022 – September 30th, 2022. There will be two sessions per day from 6:00 pm to 7.30 pm and 7:45 pm to 9:15 pm.
Who Should Attend?
Highly motivated
Academia:
Faculty at UG and PG level,
Research scholars (pursuing Ph.D. and with Ph.D),
Research associates/Academic associates (with M.Tech/M.Sc.)
Industry:
working in industry or pursuing for capacity building in analytics
Certification
---
The participants will be awarded a Certificate of Participation in the Online Development Program on Analytics.
Registration
---
The candidates are requested to register and pay online with all required details. Here's the registration fees for Indian and foreign participants. The fees once received for the program cannot be transferred to other programs and are nonrefundable.
| Fees | Indian Participants | Foreign Participants |
| --- | --- | --- |
| Academia- (Faculty, Research Scholars/Associates) | INR 5000 + 18% GST | USD 100 (Including GST) |
| Industry- (Early career professionals) | INR 8000 + 18% GST | USD 200 (Including GST) |
The final date of registration is September 26th, 2022.
On receipt of payment of registration fees and duly filled
registration form
, the participants will receive a confirmation and invitation email by September 26th, 2022.
Registrations will continue a first come-first-serve basis (based on the above-mentioned steps and fulfilment of criterion) until September 26th, 2022. or until the maximum intake (as determined by IIMV) is met, whichever happens earlier.
Programme Directors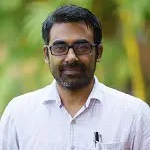 Prof. Shivshanker Singh Patel
(Director, e-mail: shivshanker@iimv.ac.in) Ph.D. (IISc Bangalore)
Chairperson of Inter-disciplinary decision science & analytics lab and faculty member in the Decision Sciences Area in IIMV. At IIMV, he has been teaching courses on Data Science, and Operations Research in the PGP, PGPEx, PGPDGM and doctoral Programme. His research interests lie in the domain of system modeling analysis, forecasting, and optimization, applied to scarce resource management and logistics management. He was associated with corporate while working with Mphasis- NextLabs, Mahindra and Mahindra Automotive Ltd. and Vedanat
Prof. Prashant Premkumar Nair
(Co-Director, e-mail: prashantpn@iimv.ac.in) Ph.D. (IIM Kozhikode)
A faculty member in the Decision Sciences Area in IIMV. Prior to joining IIMV, he was associated with IRMA, Deloitte Touche Tohmatsu, Torrent Power, and Vedanta Resources. At IIMV, he has been teaching courses on Statistics. At IRMA, he has taught courses on Business Statistics and Analytics and Operations Research. His research interests lie in the areas of Network Optimization Problems and Data Analytics.
Program Schedule
---
Session Details
(September 26th, 2022 – September 30th, 2022):
| Topic | Session |
| --- | --- |
| Overview of Analytics in Organizations | 1 |
| Introduction to R | 2 |
| Data Visualization | 3 |
| Descriptive Analytics and Inference | 4 |
| Predictive Analytics: Simple and Multiple Linear Regression | 5 |
| Predictive Analytics: Simple and Multiple Linear Regression | 6 |
| Predictive Analytics: Classification | 7 |
| Predictive Analytics: Classification | 8 |
| Forecasting | 9 |
| Forecasting | 10 |