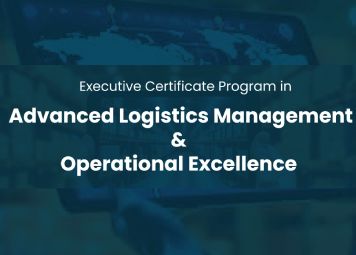 Executive Certificate Program in Advanced Logistics Management & Operational Excellence
6 Months | Live Online
Jan-07-2024
This 6-months, thoughtfully curated program in Advanced Logistics Management & Operational Excellence, is designed to enhance our understanding of the ever-growing importance of Logistics management. COVID-19 has layered the importance of efficient and effective logistics management when most of the economy was halted. Logistics became a lifesaver. From its largely military origins, logistics has accelerated into becoming one of the key business issues of the day, presenting formidable challenges for managers and occupying some of the best minds. Its relatively slow route to this exalted position can be attributed to two causes. First, logistics is a cross-functional subject. In the past, it has rightly drawn on contributions from marketing, finance, operations, and corporate strategy. Second, logistics extends beyond the boundaries of the organization into the supply chain. Here, it engages with the complexities of synchronizing the movement of materials and information between many business processes.
The systems nature of logistics has proved a particularly difficult lesson to learn, & individual organizations still often think that they can optimize profit conditions for themselves by exploiting their partners in the supply chain. The challenge is obviously to ensure this availability to the consumer while complying with the requirements of trade customers. Answering these challenges is the aim of the Reckitt Benckiser network and, more specifically, of our logistics program. With the emergence of e-commerce, logistics operations have become more challenging than ever before because the competition is just a click away.
The supply chain and logistics managers should understand the recent advancements in logistics operations and meet the need of industry requirements for lowering the cost of logistics operations. The expertise in logistics operations will surely will contribute to nations logistics mission"PM Gati Shakti".
Apply Now