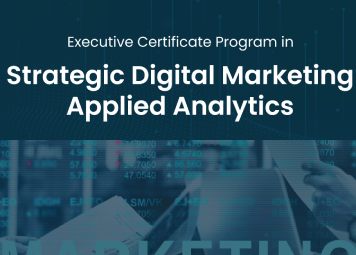 Executive Certificate Program in Strategic Digital Marketing Applied Analytics
5 Months | Live Online
Jan-14-2024
The Strategic Digital Marketing and Analytics course focuses on constructing strategic frameworks to assist managers in facilitating their marketing endeavors and making informed decisions. This course will provide you with an analytical and theoretical framework to understand the emerging world of Digital Marketing and will help to learn systematic decision-making based on powerful proven analytical techniques. The objective is to gain a comprehensive grasp of digital marketing and cultivate the expertise, knowledge, and self-assurance necessary for conducting in-depth analyses.
This course in Strategic Digital Marketing and analytics is tailored for professionals seeking to cultivate their proficiency in devising digital marketing strategies and employing tactics that fuel business expansion.
The digital marketing certification offers a multifaceted learning experience, combining online sessions, interactive live virtual classes, real-world case studies, and hands-on projects. This IIM course can set you apart from your peers and showcase your mastery of the field, thus elevating your prospects for securing employment or advancing to a more senior role within your present company.
Apply Now