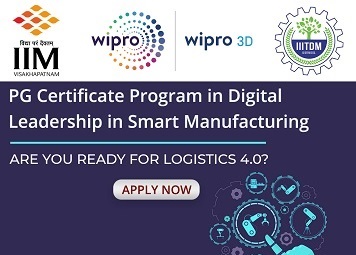 PG Certificate Program in Digital Leadership in Smart Manufacturing (PGC-DLSM)
Aug-07-2022
Industry 4.0 is signalling a massive change in the landscape of traditional manufacturing. Industry 4.0 announces digital transformation of the field, delivering real-time decision making, improved productivity, flexibility and agility. Famously known as the Fourth Industrial Revolution, Industry 4.0 encompasses three technological trends driving this transformation: connectivity, intelligence and flexible automation.
The Post Graduate Certificate Program in Digital Leadership in Smart Manufacturing (PGCDLSM) is a unique program being launched by the Institute in collaboration with the Indian Institute of Information Technology Design and Manufacturing, Kurnool (IIITDMK, an institution of national importance established by the MoE, GoI); and Wipro 3D - a strategic initiative of Wipro Infrastructure Engineering and a leading provider of Additive Manufacturing Solutions and Services to diverse sectors.
The initiative contributes to the realization of the objectives of the National Education Policy 2020 that strongly encourages multi-disciplinary programs and courses, collaboratively among institutions. The integrated program depicts a perfect amalgamation of engineering, management & corporate.
The digital technologies used lead to better automation, predictive maintenance, self-optimization of process developments and, above all, a new level of efficiencies and responsiveness to customers not previously possible. Developing smart factories offers an incredible opportunity for the entire manufacturing industry to enter the fourth industrial revolution.